A Conversation with Jim Mayfield
A Conversation with Jim Mayfield
For 50 years, photographer Jim Mayfield has been producing amazing images.
We've been friends for 58 years.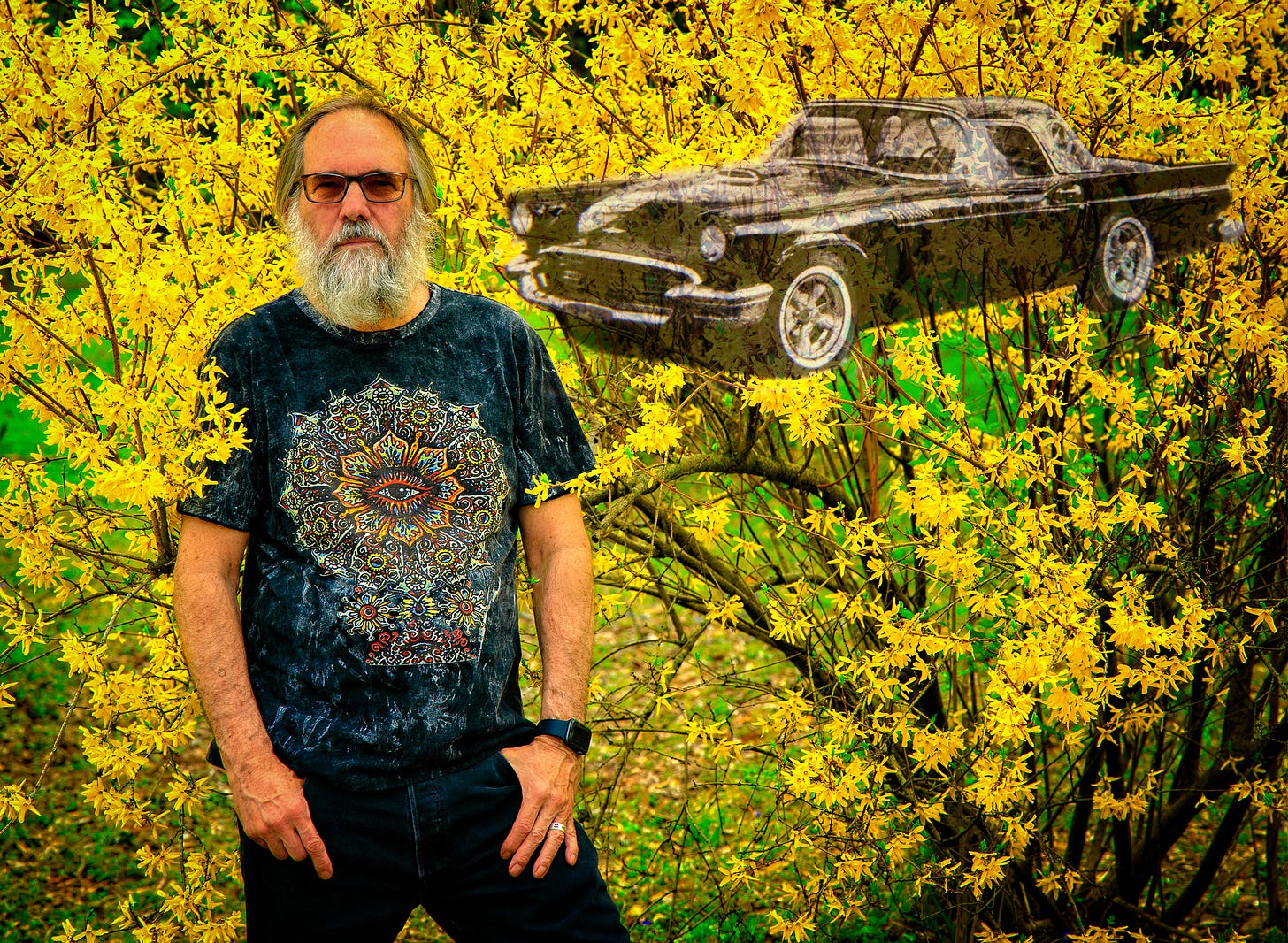 Besides asking Jim for photos representing his work over the years, I requested a current picture of him and one of him back in the day with the 1957 Thunderbird he drove when we were in high school. He told me he only had a photo of the car by itself but met my request with this "portrait combo."
.
Private Mayfield, MCRD San Diego                                                        Corporal Harlan, Iwa Kuni, Japan
I learned many lessons in the combat zone, one of which involved self-awareness—specifically, an understanding of the person I had been prior to becoming a combatant, and an acknowledgement that that person no longer existed. In high school I wanted more than anything to be cool, like my friend, Jim Mayfield. What I came to realize was, Mayfield was cool because he didn't try to be, and I was not because I did try to be.
After 19 months overseas, I returned to the States and was stationed at Camp Pendleton, California. I learned that Jim Mayfield had joined the Marine reserves and was going through boot camp at Marine Corps Recruit Depot San Diego. I found out what platoon he was in. I knew recruits were not allowed visitors but decided to give it a shot. I figured that if I showed up in uniform, wearing a Vietnam ribbon and a Purple Heart, I might have a chance. It worked.
It was a Sunday. Jim's platoon was outside their barracks at outdoor sinks scrubbing their skivvies, t-shirts, socks, and dungarees. I located their drill instructor and asked him if I could have a word with Private Mayfield.
"Mayfield! Get over here!" Jim came running up and stood at attention in front of his DI: "Sir, yes sir!"
"This Marine wants to talk to you."
For once, I was the cool guy.
.
Our Conversation
.
GH: Jim, what inspired you to become a photographer?
JM: I was an art major at SMS, which is now MSU, and I took the only photography class available which was a night class taught by Robert Johnson. He was both a painter in watercolors and a photographer. I guess you could call him a mentor. He really stimulated my interest in photography.
GH: Has there been anyone else you would consider a mentor?
JM: Not really. But that's where I got started, but there wasn't much offered in photography. I wrote to Kodak and got a brochure of schools around the country that were concentrated in photography. I chose the ArtCenter College of Design located in Hollywood. I only went there two semesters because the school was mostly geared toward commercial photography and I was interested in photography as an art form. But I did encounter some interesting teachers at that school. There was a guy named Todd Walker who was a well-known artist and we had guest lecturers come in such as W. Eugene Fields and Ansel Adams. So it was a good opportunity to be around people who considered photography as an art form. But then after leaving the school reality set in, and I went to work for Joe Maddux, a commercial photographer in LA who had some major accounts including TEAC, JBL, and Packard Bell. I did learn a lot from him. I guess you could call him a mentor. When I set up a studio in Springfield, I applied what I learned from him.
GH: Yeah, you did both when you operated KamRaHed Studio.
JM: Yeah, the reality is if you want to make a living in photography you have to do something that generates money. You have to do commercial work, wedding work, portrait work, or something along those lines. I ended up concentrating on a lot of different things. I've always enjoyed shooting environmental portraits using natural light rather than studio portraits, though I did that too in order to make a living.
GH: You also worked for the newspaper. What was that like?
JM: I was lucky to get hired on by the News-Leader considering I had no training or experience in photojournalism. There aren't many working newspapers anymore. We had six or eight photographers and a bunch of reporters. Now it's down to very little. So anyway, I didn't have a background in photojournalism, and the photo chief was a gung-ho photojournalist who didn't like me too much. He didn't think I had what it took to be a photojournalist. But I went out and covered fires, wrecks, and murders, and so forth. I never cared much for doing that sort of thing. There was one incident somewhere northeast of town. A young guy had gone berserk and killed a bunch of family members. They sent me out to take photos. One of them was published in a major magazine. The tension in the air was just horrible. You could just feel the hatred. I'm sure you got used to that sort of thing in the war, but I just didn't like being around that kind of event. Later, they moved me to the features department where I could really utilize my talents. We would do fashion and food and go out to profile outlying towns. We did much more widespread coverage than they do now.
GH: How long were you at the newspaper?
JM: Ten years. By the end of that time I was ready to do something else. As it turned out, I was presented with an ideal opportunity while carrying out an assignment. Johnny Cash was going to build a theater in Branson, so they sent me to cover that. Johnny Morris was there for the ground-breaking. He and Johnny Cash were friends. While I was covering the event, Johnny Morris asked me if I would be interested in living in Dogwood Canyon and documenting the progress of the work being done there. I lived there for a year, and we had a talk and Johnny asked me what I thought about the whole situation. I was satisfied with the work I had done, but we had a mild winter that year, so I didn't have any snow pictures. So we decided I would stay there another year. There was a lot of snow the next winter, and I shot a lot of interesting pictures with snow on the ground. At the end of the second year I moved back to Springfield and worked on Bass Pro catalogs. I can't remember how long I was there, but I was not really happy doing that kind of work and wanted to get back to doing my own thing. Paul DeRigne had been doing art shows, and encouraged me to get involved in that. It sounded like a good idea. I packed the car with everything I needed and was on the road doing art shows for a number of years.
GH: Let's go back to your early days. Several years after you returned to Springfield and established KamRaHed Studio I returned home after 13 years to work on my writing and learn photography. You were kind enough to let me hang out and assist you at the studio where I spent a lot of time studying your black and white Ozarks images. I'm wondering what it was like for you, coming home from a big-time commercial studio in LA .
JM: When I came back from California, I found a place with 80 acres down in Cedar Creek. I developed my own style while living there. I set up a darkroom in an old smokehouse. I'd drive around the country and take pictures of the people I ran into. I enjoyed doing that. I got a lot of Ozarks characters that way.
GH: Not to mention all the structures—the barns, cabins, houses, mills, etc.
JM: Yeah right.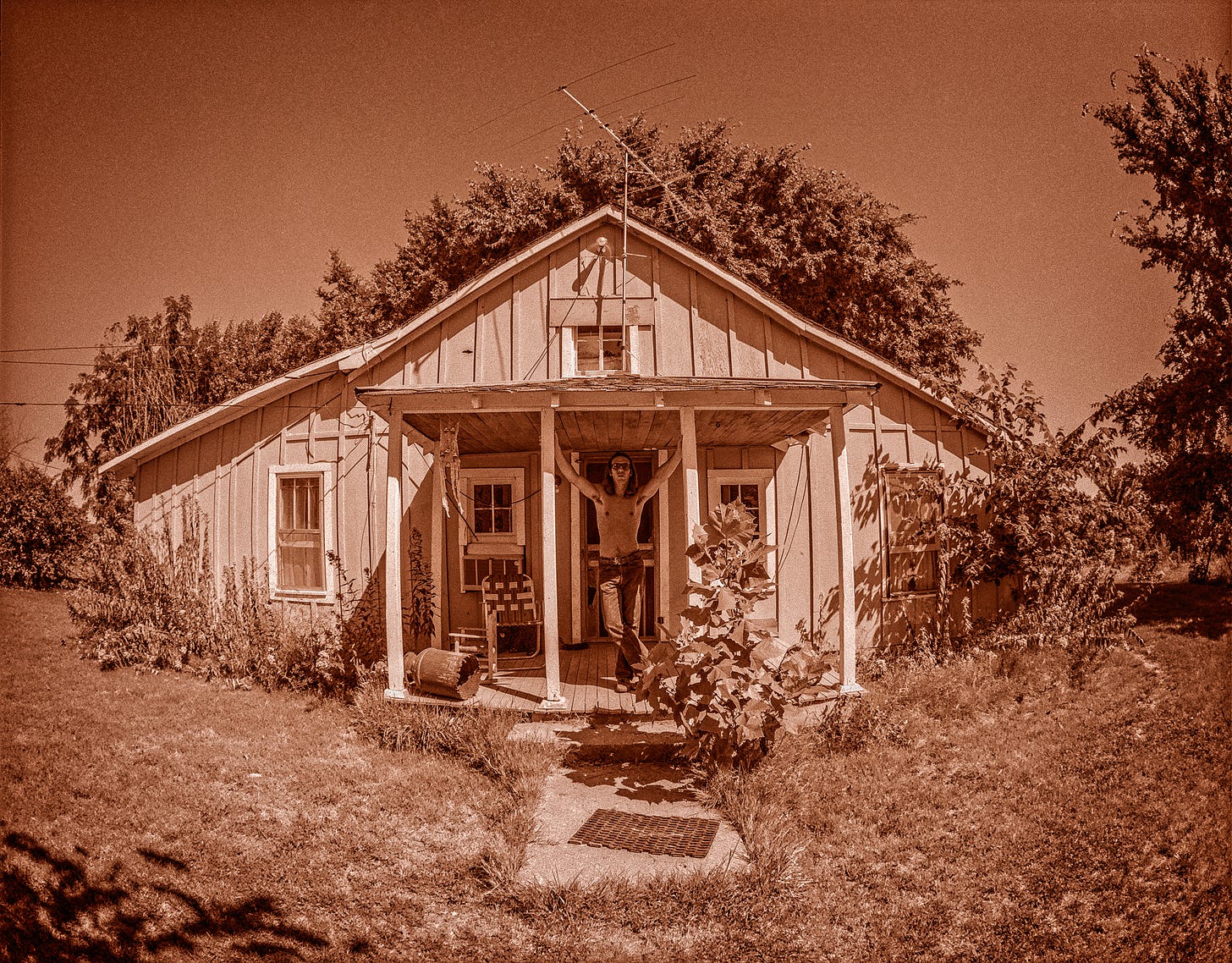 Jim at his house at Cedar Creek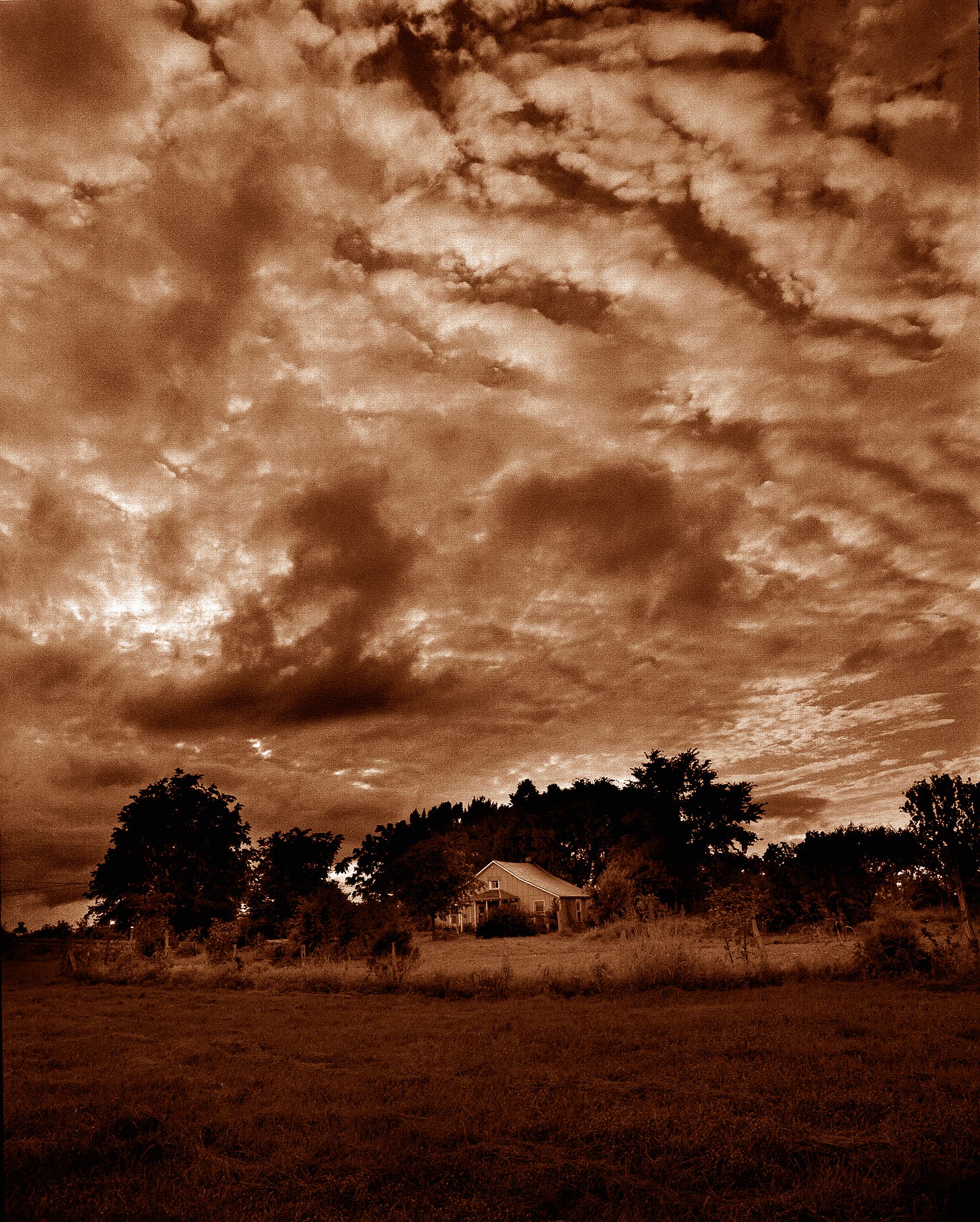 Up in Willie's Barn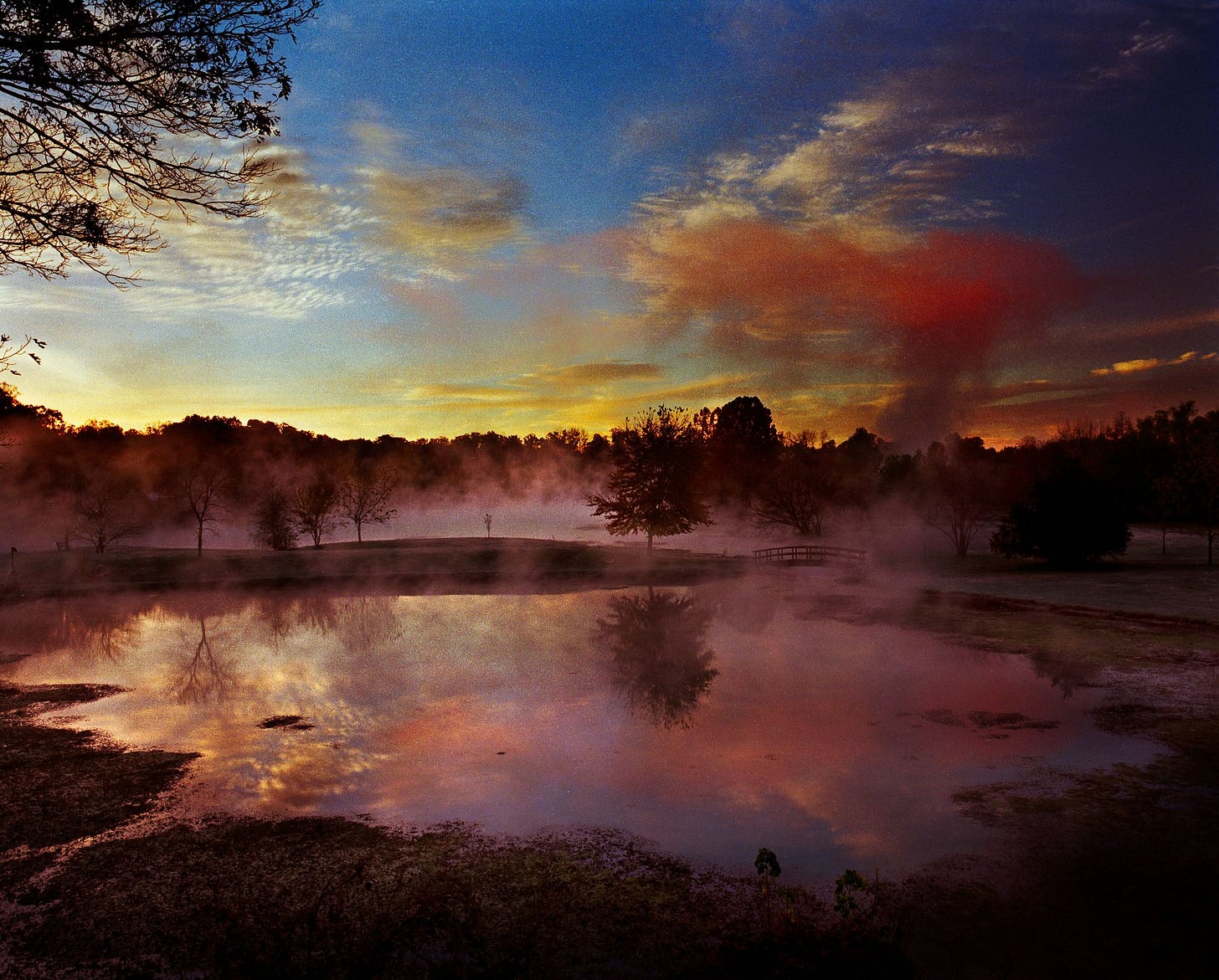 Mammoth Morning Mist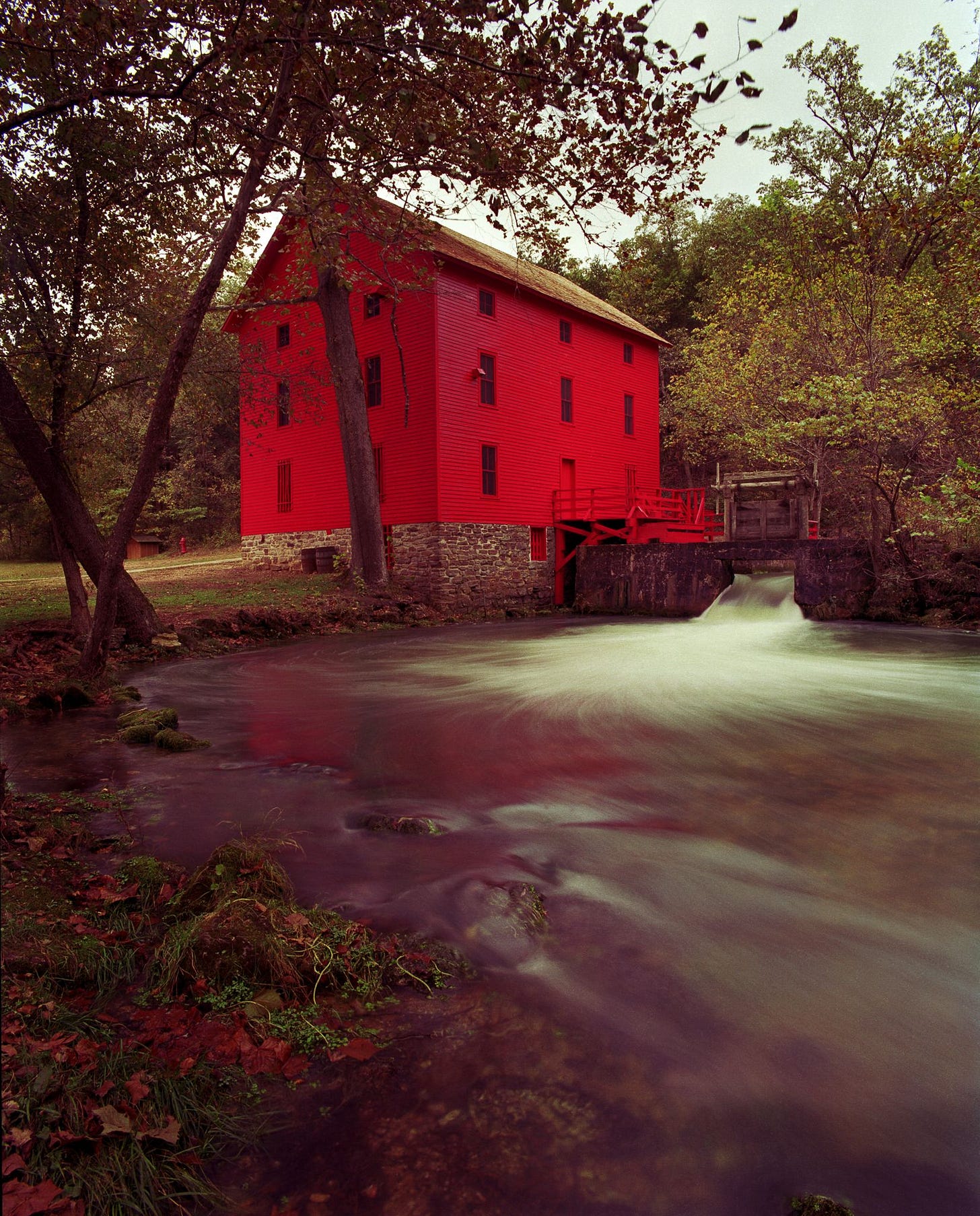 Alley Spring
GH: Considering that you've been at it for 50 years, this might be a difficult question to answer, but I was wondering if you have a favorite image.
JM: I don't shoot as much as I used to, but when I'm out doing some serious work, I always find a subject I like. So, it's hard to pull one out. There are a lot of images I'm fond of. The work I did for the Daredevils—for the covers of "Men From Earth," Clarence and Rosco, and the photo of Lydia for "It'll Shine When it Shines,"—I'm still pretty fond of them.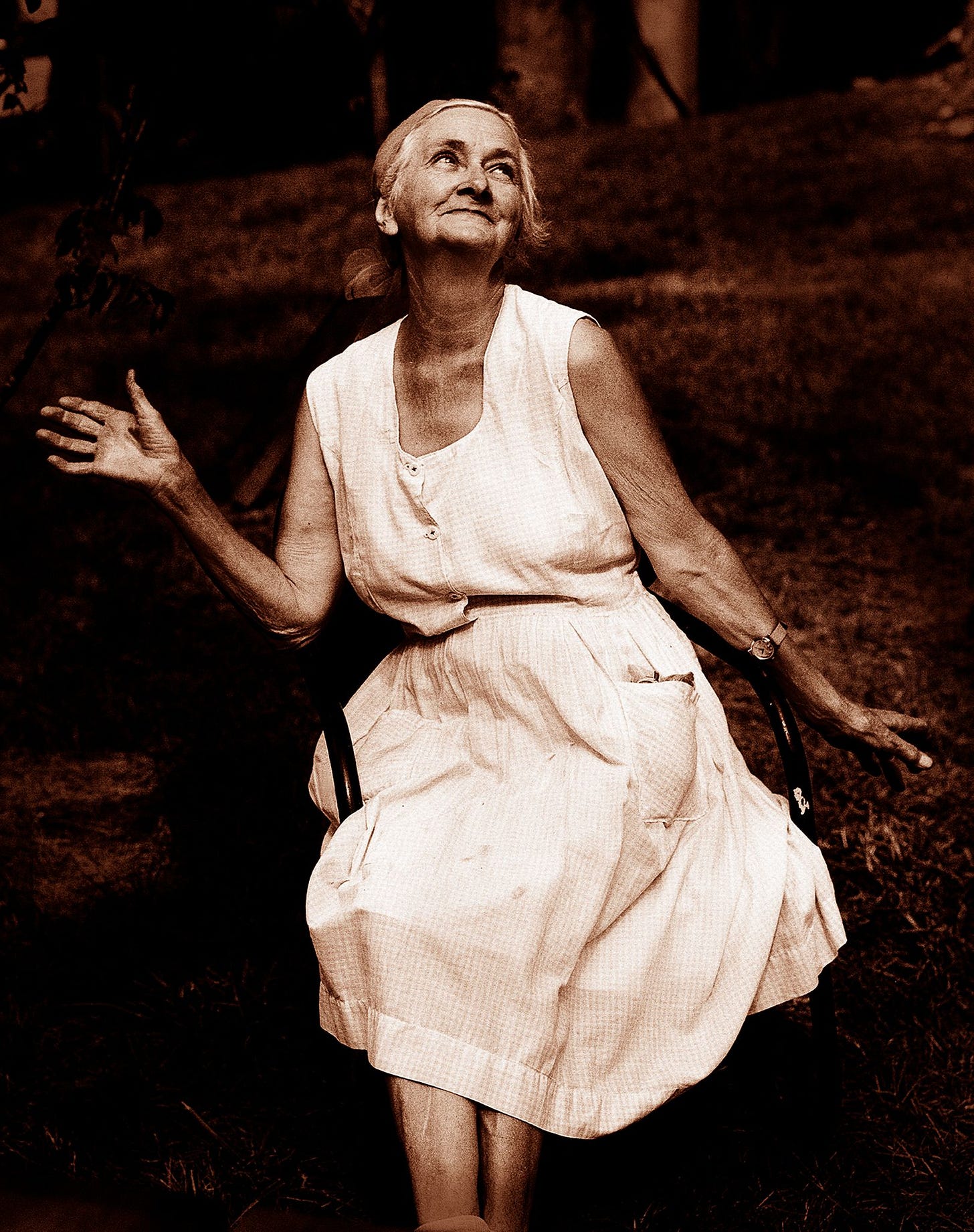 Lydia Bonham
GH: What are your recollections of taking the cover photos for those two albums?
JM: The band was doing this remote recording outside Bolivar, and Lydia was hired to prepare meals for everyone—the band, the sound and production crew, the roadies, girlfriends—nearly 50 people. And she was a good cook, by the way. I was taking pictures of everyone there. Once, when there was a lull in the action, I asked her if I could take her picture. I always think it's a good idea to ask people if I can take their picture before you start shooting away. She said, "Aw, you don't want to take my picture." But then all of a sudden, she struck up that pose.  It was the only picture I took of her, and when the band saw it they knew it was what they wanted for the album cover because it kind of brought across that idea of it'll shine when it shines.
GH: That's great. What about Clarence and Rosco Jones?
JM: Those guys were a real throwback to earlier times. A&M insisted on a color shot because they were afraid that people would think it was a hundred-year-old photograph if it was in black and white. I was living out near Highlandville at the time. The band was doing rehearsals at an old house nearby, and these two guys had a 30-acre farm in that area. When the band was practicing, these guys would come around and listen to them. They asked me to take pictures of them. They knew they wanted to use them on the album. So I went out one day and took shots of them in black and white and color. They were just a father and son who lived in an old ramshackle house on a farm that was really rocky. The grew vegetables to get by and worked for other people in the area, helping them get crops in. I'd see them on the road when I drove to Springfield. They would drive to Nixa in their horse-drawn wagon.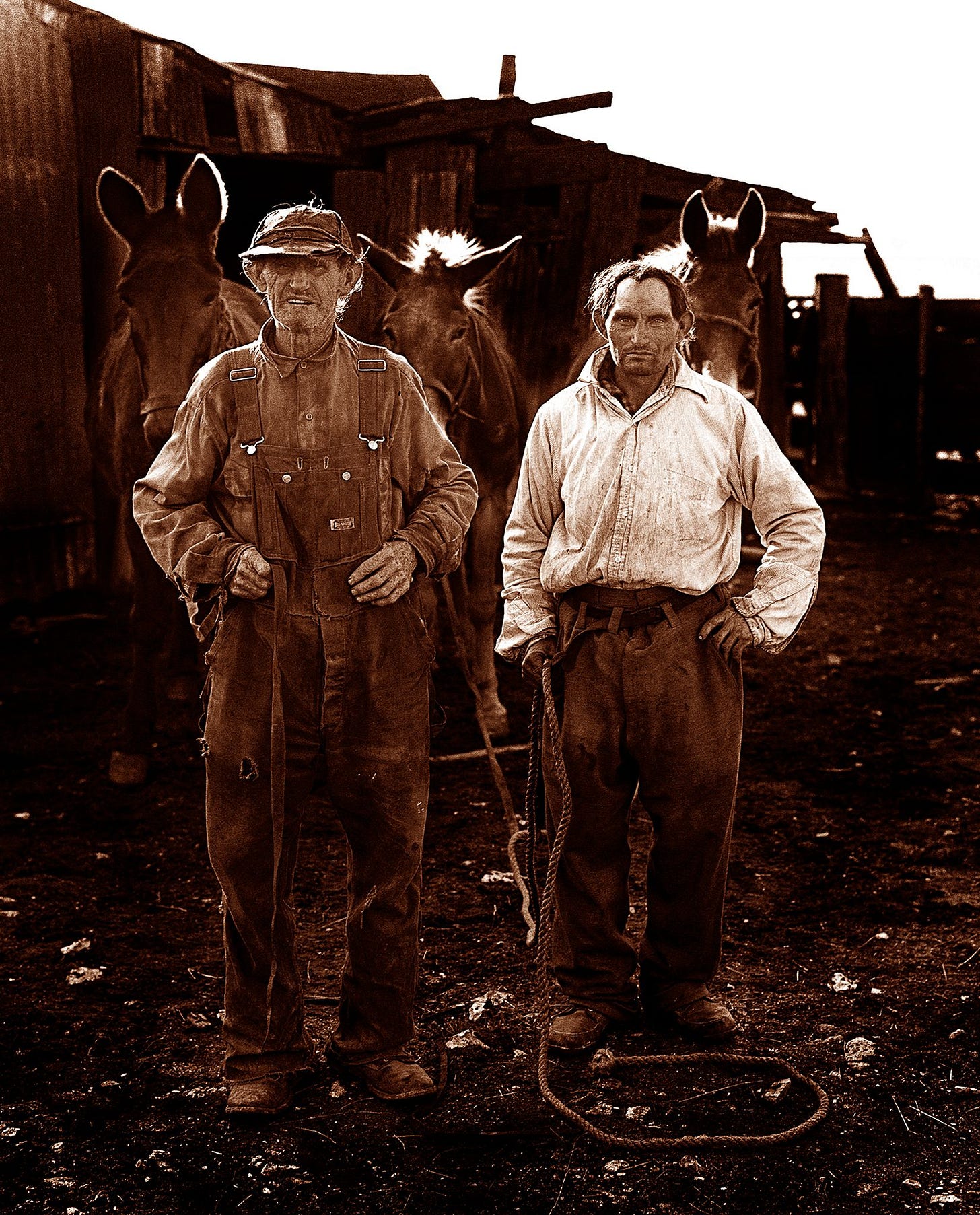 Clarence and Rosco Jones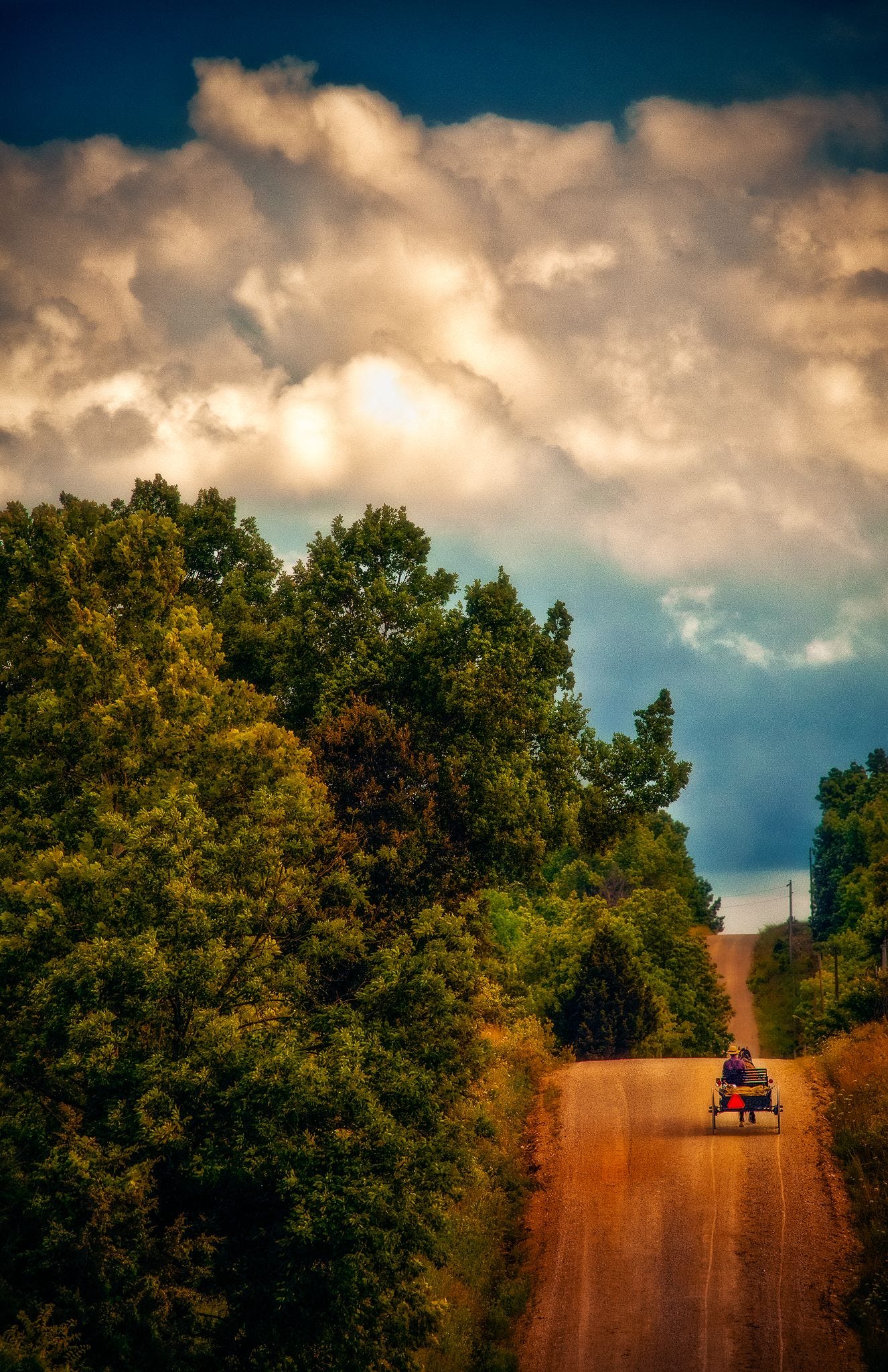 The Way Home
GH: How would you say your work has evolved over the years?
JM: I think I've adapted as times have changed. I got into digital photography right off the bat. I started using digital cameras and found you can do a whole lot more digitally than you can in a darkroom. And the software that is available today is easier, but it still takes a lot of time to do it, to get what you want out of it.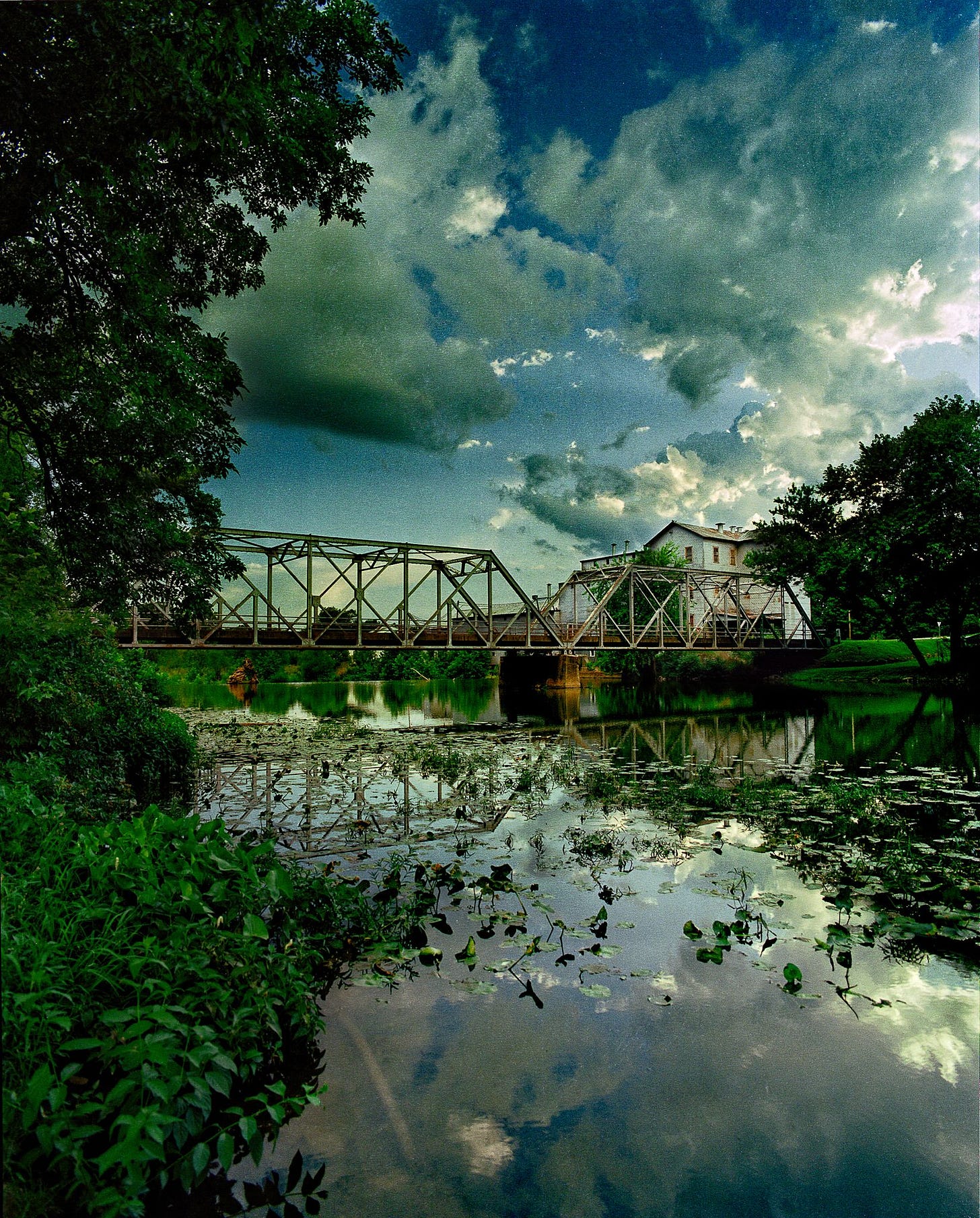 Ozark Mill
GH: Thanks to you, I did wedding photography for two years. It would have been nice to take a shot and find out immediately what you've got.
JM: Yeah, and it would have spared you the expense of buying a lot of rolls of film.
GH: It's pretty amazing the stuff you're producing nowadays. How would you describe it?
JM: You still get back to the initial capture of the image when you use a camera. You're still thinking about how the light affects the subject. But then when you get back home and plug it into a computer, then you have a whole lot more variables in the way you process it. I very rarely use photoshop. I use Lightroom a lot. You used to have to do a lot of burning and dodging in the darkroom to control the lighting. Now you can accomplish that with sliders. From there I use On1 Photo RAW 2020. It's a lot more intuitive than photoshop. When I plug my card in I do all the minor adjustments with Lightroom, then I go to Photo RAW to finish up my print. I've got other software I use occasionally, but those are the two I use the most.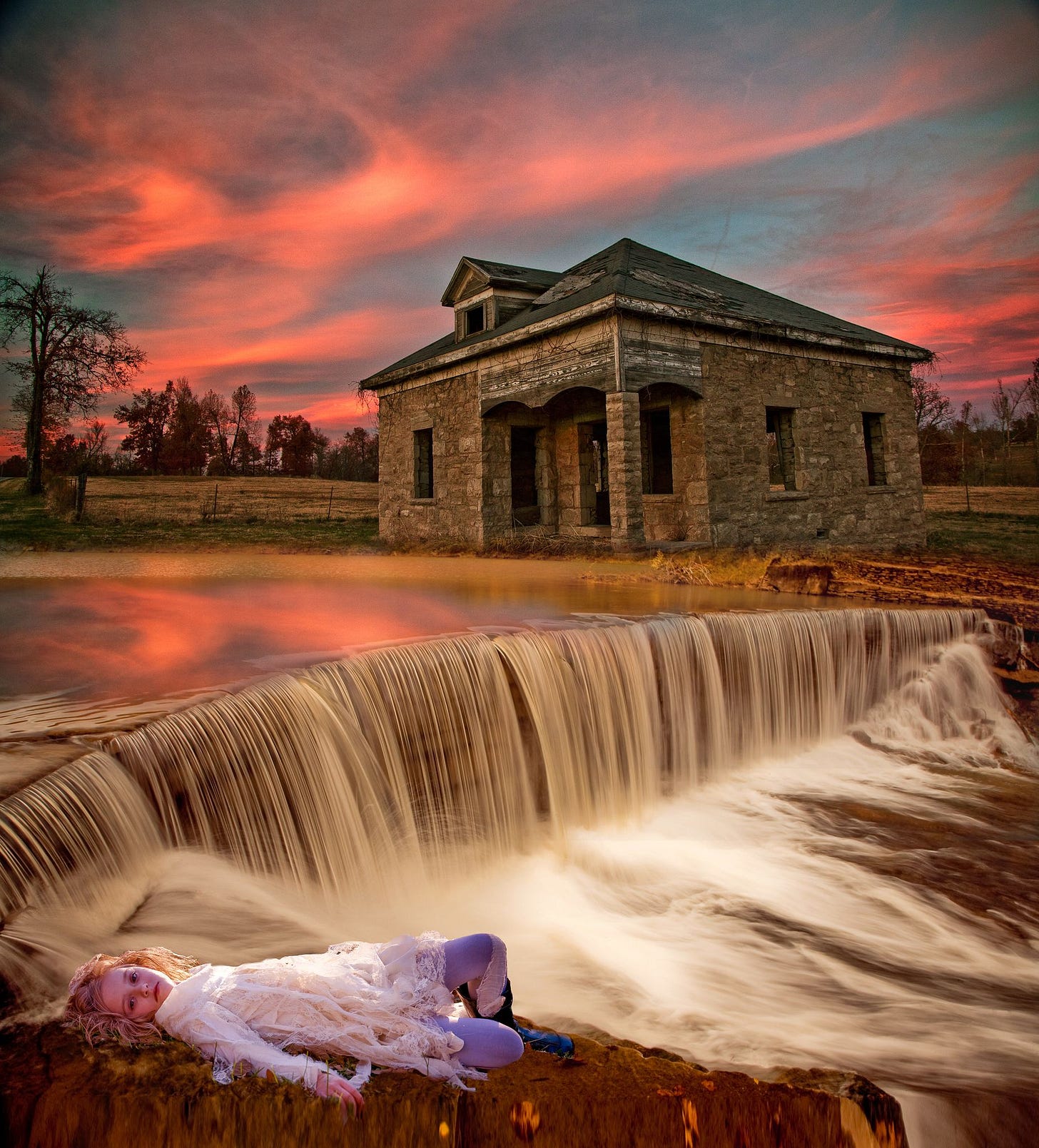 Phenix Bride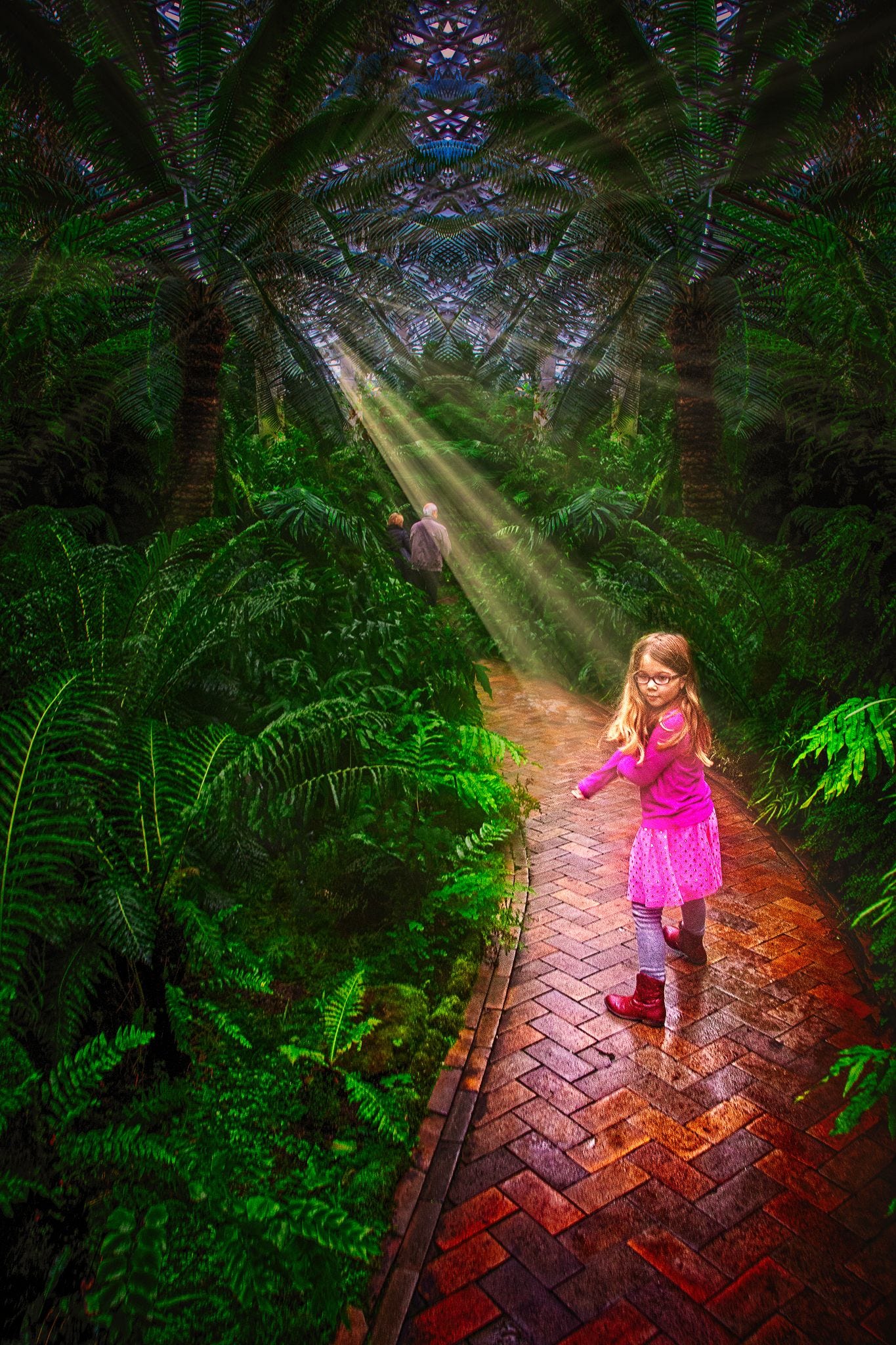 Question the Path
GH: Despite the obvious Covid-19 restrictions, do you have any upcoming projects or exhibits?
JM: About five years ago I started assembling my work over the years in Lightroom, reworking a lot of the old images. And I just got a book printed of my surrealistic work. There's over a hundred images in the book. I'm also working on a portrait book that will have even more images than that. There will be about 250 images going back to the 70s up through today. Plus, I'll probably do a landscape book, having done so many landscapes.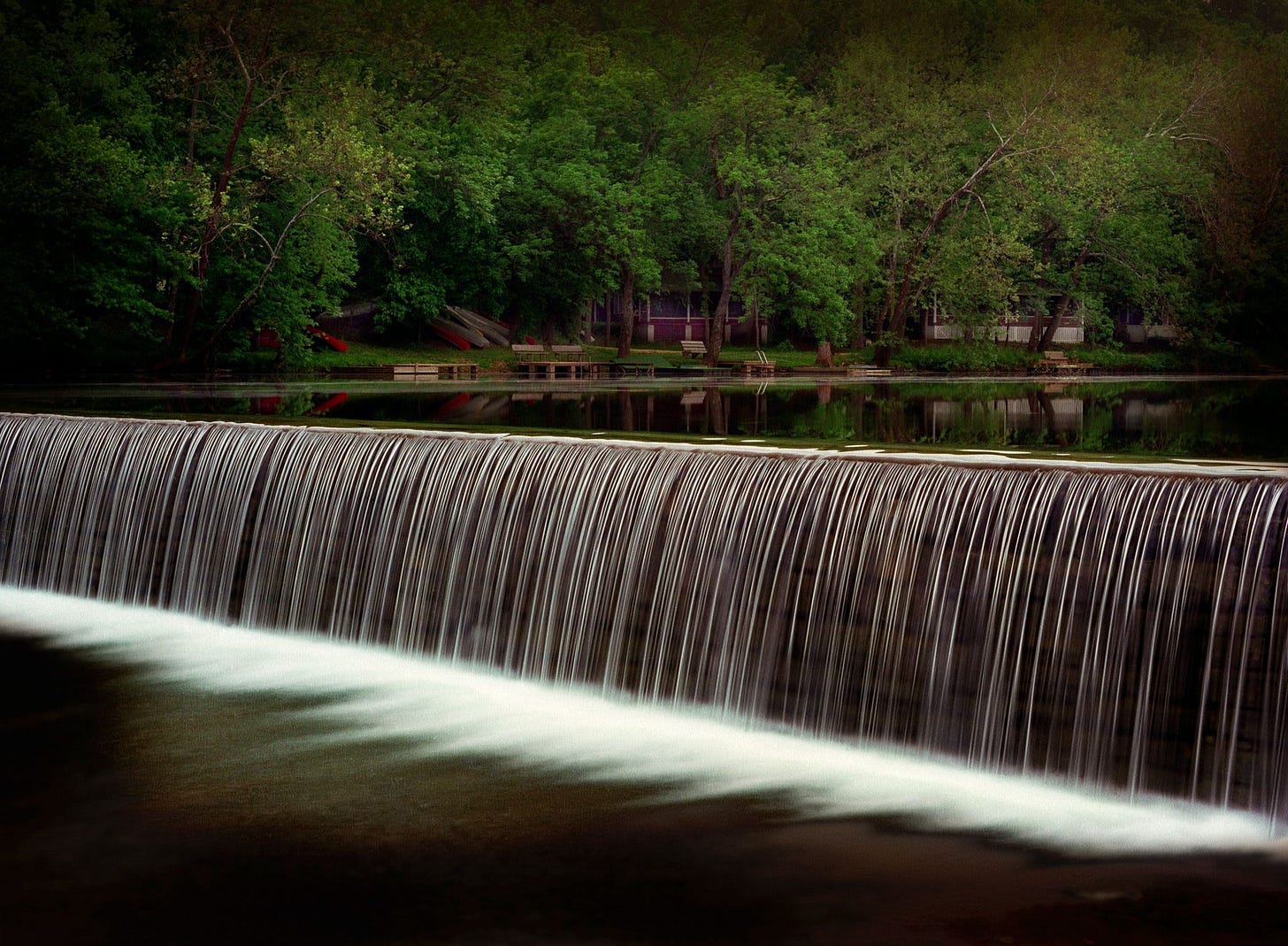 Lindenlure
GH: Will these books be available for sale?
JM: I'm doing these for my own benefit. This surrealistic book cost me a hundred and eighty dollars. So, you take that into consideration, to make any money on it I'd have to charge something like two-hundred and fifty dollars, and not many people would be willing to spend over two-hundred dollars for a book. So, this is just something I do for myself, and perhaps pass on to future generations.
GH: How did surrealistic photography come about?
JM: From the beginning, when I became interested in art, I've always been fascinated by surrealism. Salvador Dali was my idol I guess you could say. I thought his work was incredible. So, I've always leaned that way in my personal work. It's something that most people haven't seen because they relate to the landscape and Ozark character images.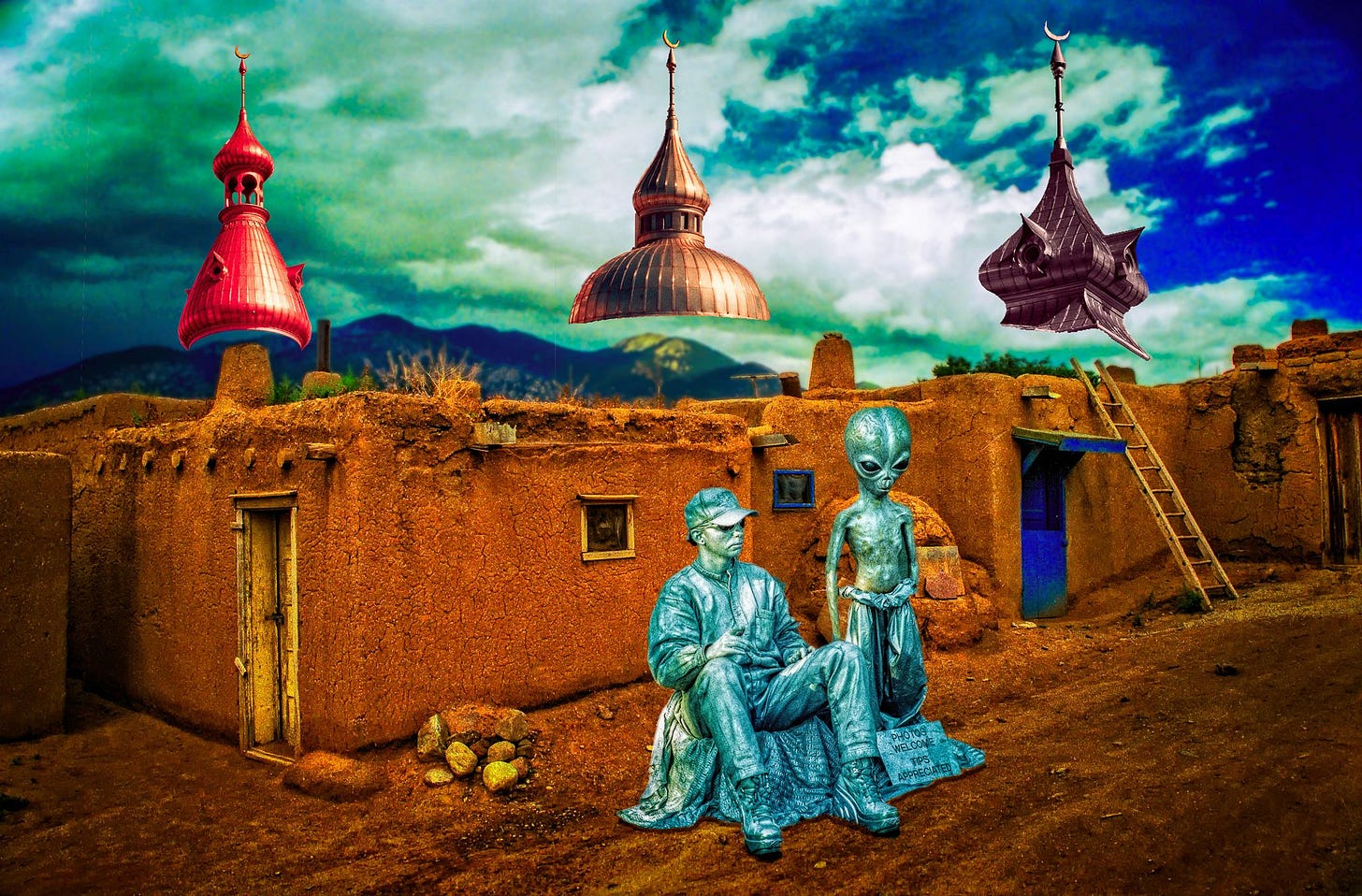 Just Visiting
Marshall's in Town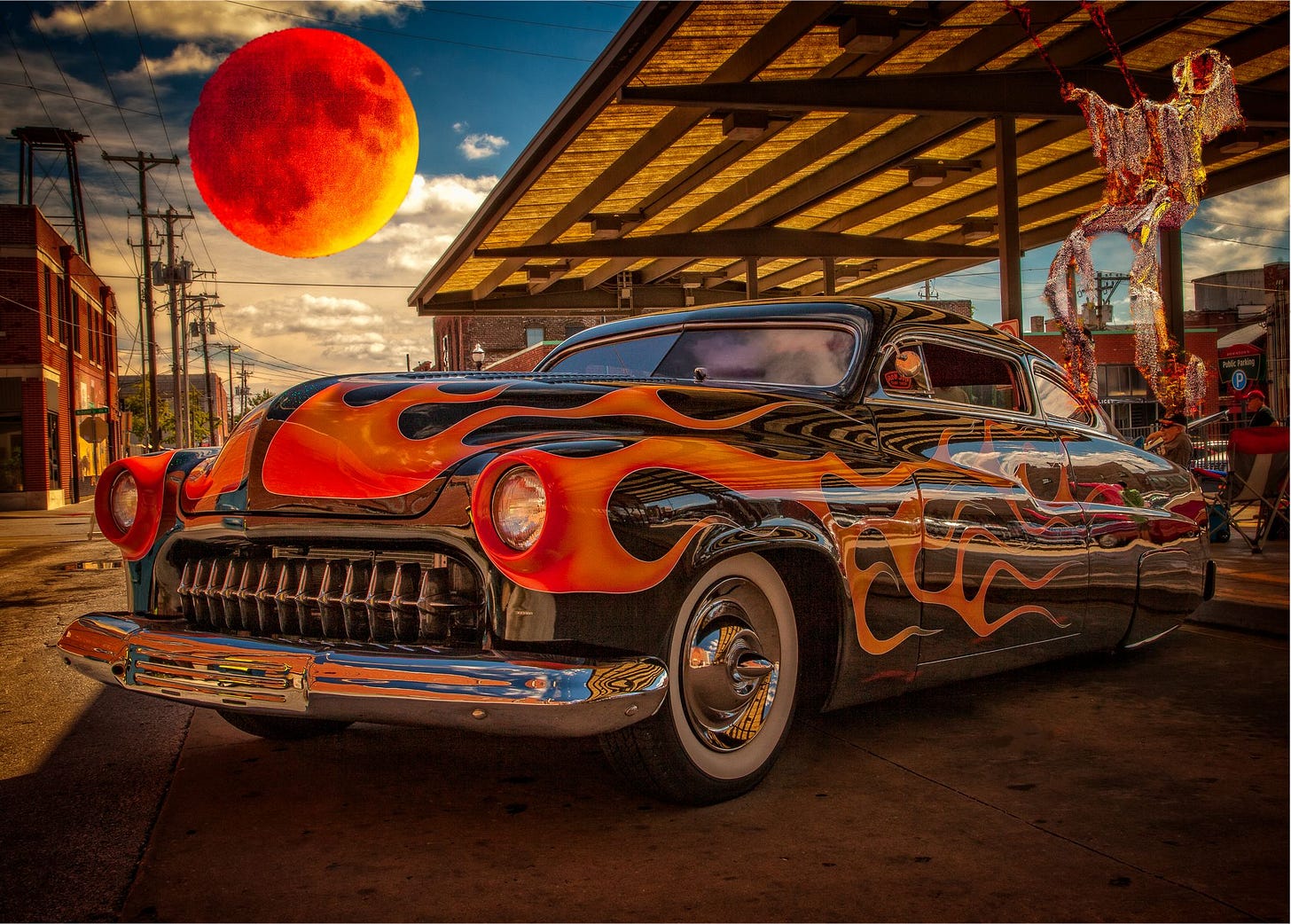 Merc on the Mother Road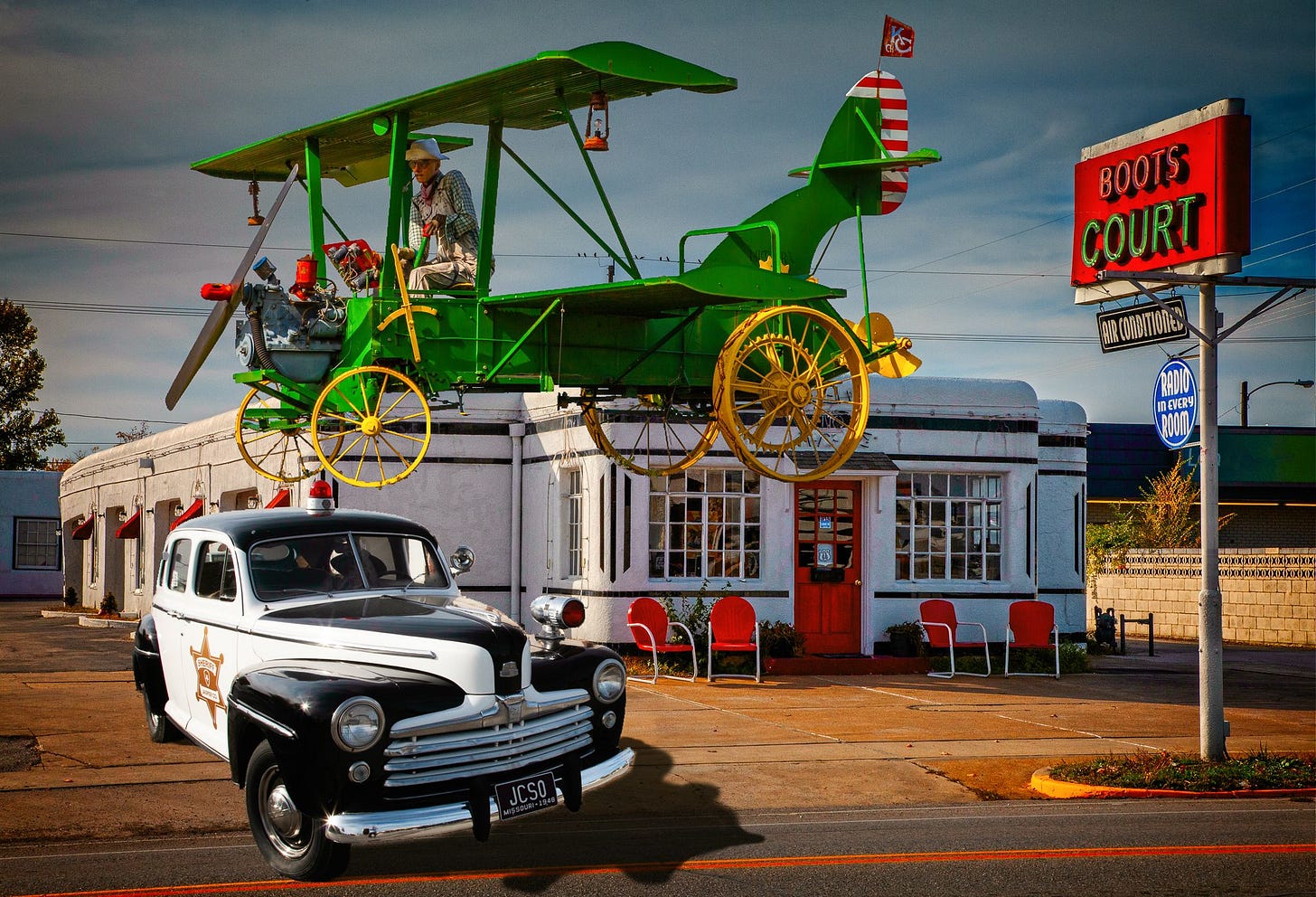 Summer Flight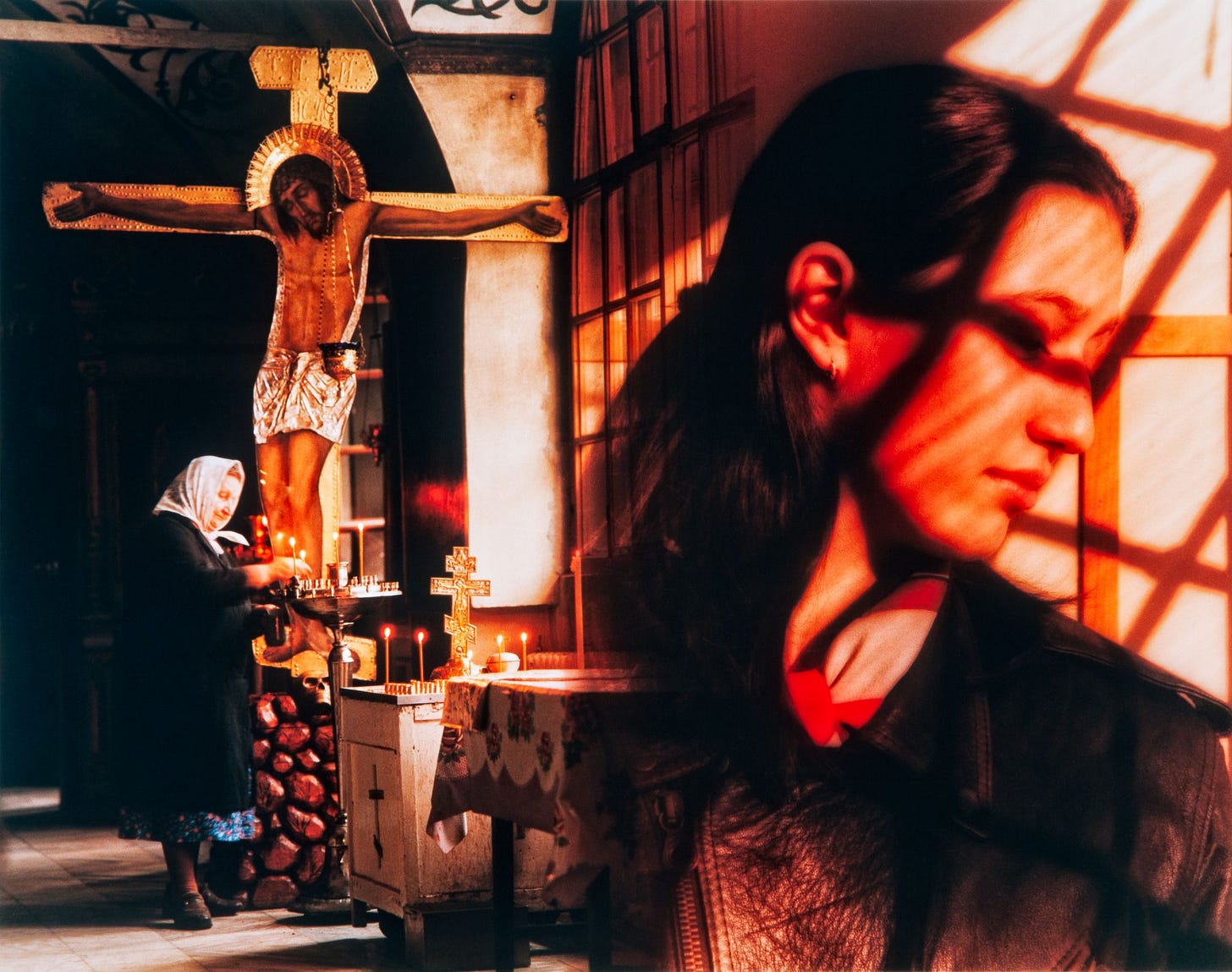 The Offering
GH: Is there anything else on your mind you'd like to share?
JM: What pops into my head is the evolution of photography. Everybody does it now. It's evolved into something completely different than when I first got started.
GH: Do you think it's been trivialized?
JM: Yeah, somewhat. It's copping an attitude to say everyone's a photographer now. But I think there's a lot more to it than pulling out your I-phone and snapping a picture. I don't think most people understand that these days. One thing I find disconcerting nowadays is when I buy a new camera it's got way too many bells and whistles. It's a whole new learning process on how to use a camera today. They were a lot simpler when I first got started, and I wish they were still that simple.
GH: What do you use nowadays?
JM: The most recent camera I bought, the Canon EOS-R, is mirrorless. There's no mirror in the camera so it's lighter weight.
GH: I get the impression that you haven't been terribly affected by the pandemic. You seem perfectly content staying at home, enjoying life with Dulcy and unconcerned about making a buck. Is that about right?
JM: Yes, I've gotten to the point where I don't really care whether I sell anything or not. I'm 74 years old and I don't have to go out and make a dollar every day. I just enjoy doing what I want to do.
GH: Enjoying what you want to do. You can't ask for more than that. Thanks, Jim.